The most common standard door size is 820 mm wide with a height of 2040 mm and a thickness of 40mm for external doors and 35mm thickness for internal doors.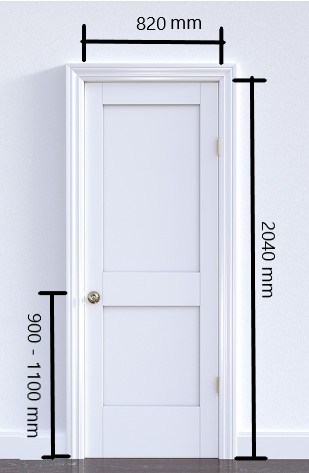 Maintaining standard order and measurements while designing Australian homes is necessary so that they can be made ready to install. However, there are some other sizes and shapes.
The most common doors size used in Australian houses are: 
620mm 

720mm 

770mm 

820mm 

870mm 

920mm 
Maintaining standard door sizes in Australia helps cut down the extra cost and is more convenient to install. Furthermore, customisation on these doors can prove to be expensive both for the manufacturer and the customer.
Changes from standard doors can lead to a substantial expense as it may require additions and improvisations, which can increase the cost of your house. 
Regular height of the doors? 
The standard height of Australian doors is 2040mm this is the norm for interior and exterior doors. In recent times more customisation has begun to create taller doors. 
People are more inclined towards building homes with ceilings over the standard ceiling height. A taller ceiling looks enticing and attractive and lends extra charm to the living space. Customers, who are interested to find out standard door sizes in Australia, should keep in mind that taller ceilings would look better with doors that are designed more towering than the average height of 2040mm. 
What is the standard thickness in Australian doors? 
The average thickness for standard doors in Australia is 35 mm for internal doors and 40mm for external doors. However, the thickness of these doors varies according to the requirement of the client and can be altered for a sleek and aesthetic look to space.
It should be noted that the thickness of every door can retain their density irrespective of any change in height. 
What Door handle height?
The standard configuration of door handles in Australian doors is attached around the waist area that is convenient for people of average height. 
The height of the doorknob from the floor should lie between 900 mm to 1100 mm. This is not too expensive to change the height as long as the frame does not have to be altered. 
Why are custom doors in Australia expensive? 
Customisation of doors can be an upscale investment because each of them requires a personalised touch as demanded by the client. Tailor-made doors may require extra additions or change in designs of frames, hangings or solely of the style of the panes, this increases the house cost. This requirement can be placed only on specific occasions where the client has a demand for different window structures or the glasses designed does not go well with their curtains or wall colour.  
Furthermore, customers who are looking for standard door sizes in Australia should consider keeping certain factors in mind. The most crucial factor being, one should buy a door of a format that is slightly less than the actual measure. In hot conditions, the doors tend to expand causing trouble while closing or opening the door. With forceful door operations, the door ends might wear off and lose its original lustre.