Perth is home to spectacular architects. Many of these architects have built amazing homes and are well-renowned not only in Australia, but internationally as well. Many of these people and practices employ different approaches, have different styles, and exhibit different nuances in the art of designing a home.
The majority of architects in Perth offer other services as well, such as interior design, engineering, and even furniture for your home. All of them, however, are guaranteed to satisfy and hopefully even exceed your expectations.
The architects on this list were chosen on the basis of reviews, awards received, customer testimony, and of course quality of work. There are many talented architects that could not be included on this list. With diligent research, you too can find people that will help you build your home. Feel free to contact us if you feel someone has been missed on this list.
To help you build your dream home, there are many choices out there, but here are a few of the best architects in Perth.
Perth Building Broker
While not your conventional Architect and as the name is somewhat self-explanatory it's not entirely correct as they do much more than that.
Perth Building Broker is a small closely-knit team of a registered builder, a designer with a Masters of Architecture and a qualified engineer. In short Perth Building Broker :
Design your dream home & helps select all finishes
Completes engineering and council approvals
Tenders out to 3-4 builders to get the lowest price
Monitors the build throughout to make sure the builder is doing as they say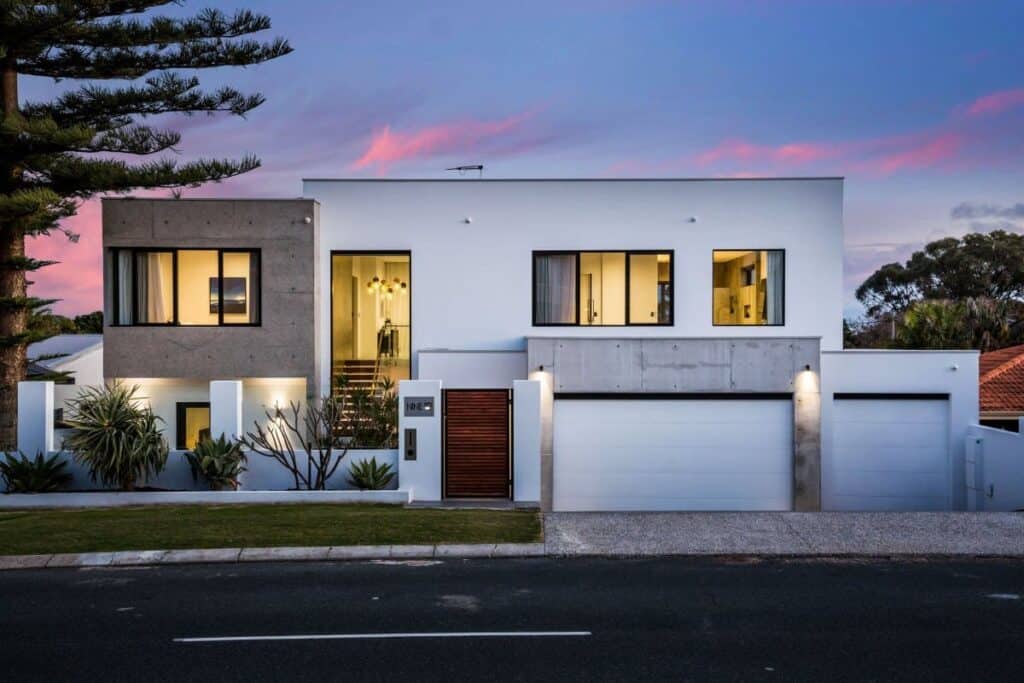 So you may think this is great, what's the cost? Perth Building Broker only charges a small fee upfront and is paid the majority when you sign up with a builder.
 They get paid a commission by the builder similar to what the builder's sales rep would get. However, instead of working for the builder, they work for you.  
I highly advise if you contact these guys before you spend a fortune at an Architect. 
Perth Building Brokers
Matt@perthbuildingbroker.com.au
https://perthbuildingbroker.com.au/
(08) 9468 5004
10/110 Flinders Ave, Hillarys WA 6025
Robeson Architects Perth
Robeson Architects is an architecture firm based in West Leederville that excels in contemporary architecture and interior design. In particular, the firm features residences that have a distinct sense of urban modernity. Aside from a superior sense of style, they also emphasize designs that are functional. Capitalizing on spacious living, Robeson Architects excels at creating comfortably stylish homes.
The Perth firm gives a detailed and excellently managed seven-stage process which ensures that project execution is efficient and transparent. Robeson Architects is run by Simone Robeson, a director, and architect from the University of Western Australia, a member of the Australian Institute of Architects, who is registered with the Architects Board of WA.
Robeson's first project, Triangle House, received a commendation from the Australian Institute of Architects in 2015, building on the principles of contemporary Japanese simplicity while presenting famously geometric elements. King George was a project that called for the conversion of a Grade-A heritage-listed worker's cottage into a modern home; it highlighted the original structure with a wonderfully contrasting modern extension to create a striking blend of old and new.
Robeson Architects Contact Information
5 Northwood Street, West Leederville WA 6007. Perth, WA
(+61) 0411 079 078
info@robesonarchtects.com.au
Robeson Architects Notable Awards
Australian Interior Design Awards "Best in State for WA" 2018 – King George
Australian Institute of Architects "Commendation" Award 2018 – King George
Australian Institute of Architects "Commendation" Award 2015 – Triangle House

Suzanne Hunt Architect
A well-renowned boutique architecture and interior design firm in Nedlands, Perth, Suzanne Hunt Architects work in residential, heritage, hospitality, and mixed-use projects. A group of trusted architects and interior designers makes up Hunt's team, working together with select external consultants and professional builders. By getting to know her clients and making them a part of her process, Hunt is able to create homes that reflect the future homeowners' own styles. This warm approach artistically imprints her clients' identities onto her designs, making each project distinct to the homeowner, yet reflective of the architect's own warmth. Suzanne Hunt Architect aims at environmental sustainability and financial feasibility as well.
Her project, the little big House presents Hunt's style perfectly; an exquisitely modern, yet low-maintenance home with a personalised design, perfectly suited for a large family. Creating a cozy atmosphere inside held by a strong exterior, the fruits of Suzanne Hunt Architect's intimate approach are made clear in the warmth and fortitude of this home.
Suzanne Hunt Architect Contact Information
12 Leura Street, Nedlands WA 6009. Perth, WA
(08) 6113 3954
suzie@suzannehuntarchitect.com.au
http://suzannehuntarchitect.com.au/
Suzanne Hunt Architect Notable Awards
2015 Bedfordale House Winner: Housing Industry Awards (HIA) Gransden Constructions (Suzanne Hunt Architect)
2015 HIA CSR Australian Home of the Year
2015 HIA Best Australian Custom Build Home of the Year
2015 HIA National Peoples' Choice Award
2015 HIA WA Home of the Year Award
2015 HIA Perth Home of the Year Award
2015 Bedfordale House: Timber Design Interior Fitout – Residential, Australian Timber Design Awards
2014 Bedfordale House WA Architecture Awards: Architecture Award for Residential Architecture – Houses (New)
2014 Bedfordale House WA Architecture Awards: Architecture Award for Interior Architecture
Philip Stejskal Architecture
Introducing the unique notion of what they call "spatial well-being", Philip Stejskal Architecture aims at sensible designs that satisfy not only the senses but at intellectual and emotional levels as well. Their almost spiritual perspective of the practice lends itself to creating homes that enchant all that enter and promote a holistic environment for the people residing in them. Guided by the notion that a certain quality of life can be made accessible to all, Philip Stejskal Architecture designs projects that can turn their ideas into reality.
Led by Philip Alexander Stejskal, the tight-knit team of architects sports versatile designs that can only be described as aesthetically modern, with straightforward palettes that delight the eyes. Making the most out of space as well as manipulating light and air, they incorporate designs that make their homes supremely liveable.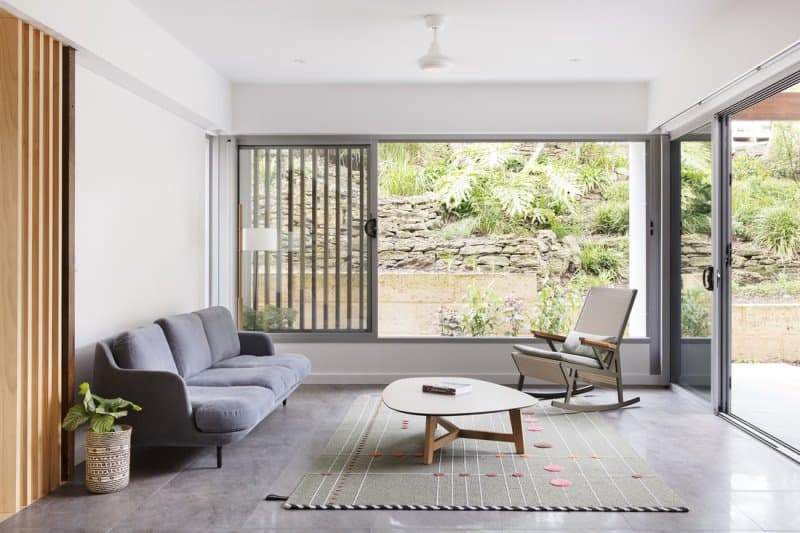 The Calais Road House in Perth features simple combinations of woods, whites, grays, yellows, and greens. Incorporating angular elements with friendly touches, the identity of this home is both tasteful and soulful.
Philip Stejskal Architecture Contact Details
Perth Studio: Level 1, 3 Cantonment St., Fremantle WA 6160.
Melbourne Studio: 5/71 Rose St., Fitzroy VIC 3065
(+61) 0401 727 405
studio@architectureps.com.au
https://www.architectureps.com/
Philip Stejskal Architecture Notable Awards
BLINCO STREET HOUSE FREMANTLE
–   Winner: New Houses Category, 2018 National ArchiTEAM Awards
–   Architecture Award: New Houses Category, 2018 WA AIA Architecture Awards
–   Commendation: New Houses over 200sqm, Houses Awards 2018
–   Short Listed: New Houses over 200sqm, Houses Awards 2018
FORREST STREET HOUSE FREMANTLE
–   The Peter Overman Award for Residential Architecture – House (Alterations & Additions), 2019 WA AIA Architecture Awards
BELLEVUE TERRACE ALTERATIONS + ADDITIONS FREMANTLE
–   Architecture Award: Small Project Category, 2014 WA AIA Architecture Awards
–   Winner: National Award for Residential Architecture – Houses (Alterations and Additions) 2014
Neil Cownie Architect
Established in 2009, the architecture firm established by the seasoned architect Neil Cownie boasts versatility and class. The firm based in Perth provides services in architecture, as well as interior design and even home products such as furniture, lighting, and other home objects. Tying together inspiration from both history and innovation, Neil Cownie offers his experience and expertise to build homes that will make clients happy by using their ideas as the foundation of his work. The architect has a distinct taste for textures and hand-made objects to incorporate a stronger sense of feeling into his work.
Cownie's project, the River House featured two adjacent houses for the clients, their parents, and their children as well; conservative, modern, and capitalizing on a connection to nature, specifically views of the river nearby. Featuring an impressive façade that leads into sophisticated interiors, Cownie is able to exceed the needs of a growing family while incorporating elements of his own style, such as woods, stone, the occasional bold touch of color. With a design that capitalizes on natural light to highlight the décor, the house is able to capture the warmth of the family. 
Neal Cownie Architect Contact Information
12 Leura Street, Nedlands WA 6009. Perth, WA
(08) 6113 3951
(+61) 0421 341 841
info@neilcowniearchitect.com.au
https://www.neilcowniearchitect.com.au/
Neal Cownie Notable Awards
2020 Build Magazine UK Best Luxury Home Architecture Firm – Western Australia
2019 Build Magazine UK 2019 Design & Build Awards 'Ones to Watch in Australia Award'
2018 R.A.I.A. WA Architecture Award 'Residential' category for Roscommon House
2018 R.A.I.A. WA Architecture Award 'Interior Architecture' category for Roscommon House
2018 Australian Timber Design Awards National Winner in the 'Residential Interior fit-out' category for Roscommon House
2018 Australia by Design Channel 10 TV Program 'Best in State' Award + 'Runner up' Award Nationally for Roscommon House
2017 D.I.A. WA Commendation Awards 'Product Design' category for 'Blade Runner' pendant light
2016 DULUX DIAlogue Travel Award Winner of the Dulux Design Travel Tour to Stockholm & London in September
Mountford Perth Architects
Mountford Architects aims at the marriage of beauty and practicality in their projects. Designing homes that are meant to build on their surroundings, the firm brandishes refined elegantly built homes. Often displaying an impressive use of light, the homes designed by the Perth practice are light and welcoming, but indisputably dazzling. The practice derives from both international and local influences and aims to deliver an enduring beauty with each project. Recognized both in Australia and overseas, Mountford Architects works in constant collaboration with the structural engineers AJV Atelier and landscape architects Realm Studios at their own office on Aberdeen Street, Northbridge.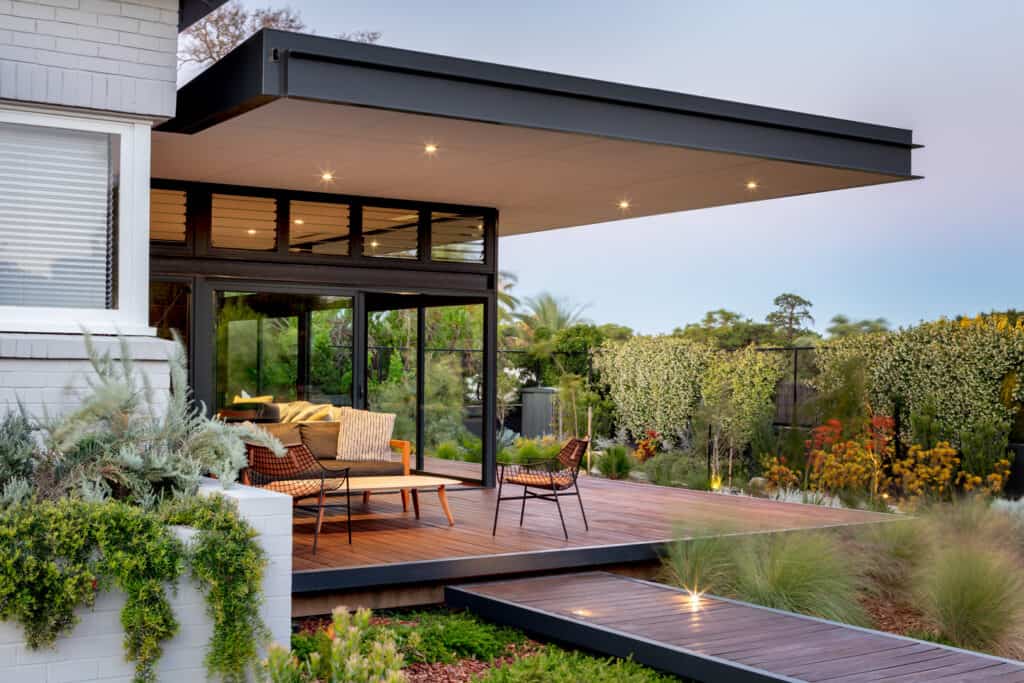 The homes built by Mountford Architects have a prominently modern yet hospitable feel. The home they built on Orrel Ave. integrates itself into the surrounding garden seamlessly, basking in light with floor-to-ceiling windows. Their intelligent use of woods and whites creates an organic synergy between the home and its environment.
Mountford Architects Contact Information
Perth Office: 123 Aberdeen Street, Northbridge, Western Australia 6003
Sydney Office: Common Room, 235-239 Commonwealth St., Surry Hills, NSW 2010
(+61) 8 9227 8664
info@marchitects.com.au
https://marchitects.com.au/ 
Mountford Architects Notable Awards in Perth
AIA WA Architecture Awards 2016 – small project architecture sussex street residence, architecture award
AIA WA Architecture Awards 2014 – mondoLuce lighting award moreing rd residence, shortlisted
AIA WA Architecture Awards 2013 – residential architecture – houses – alterations and additions, Paddington street, commendation
David Barr Architects
Putting a premium on the insight into how people occupy spaces, David Barr Architects believes in creating homes that raise the spirits of their residents. Their motto, "intelligent architecture" is reflected not only by their finished projects but by the principles that guide them. Their method values inventive collaboration across disciplines, as well as a constant dialogue with clients. Their style often employs geometric modernity coupled with natural finishes, to make for homes that exist as a romance between the stylishly contemporary and an atmosphere of warm familiarity.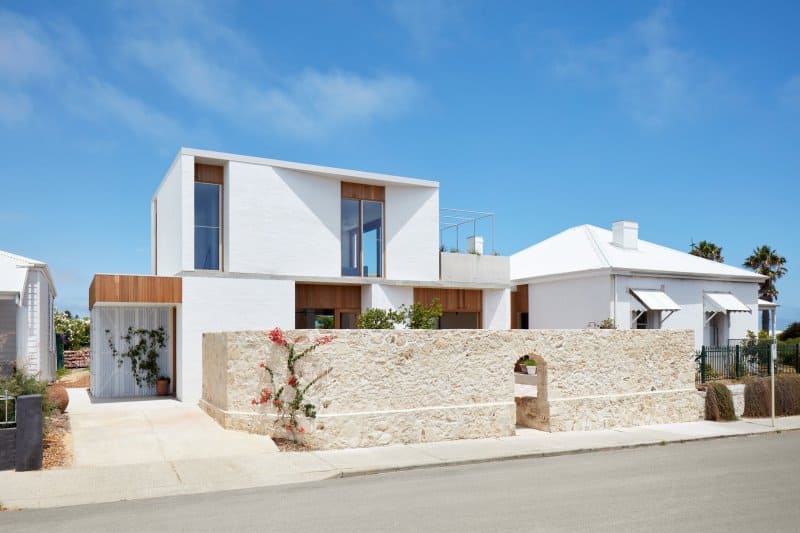 At the Marine Terrace in Fremantle, David Barr and his associates Stephen Hicks and Dennis Silva designed a gorgeous extension for a client's heritage cottage. Featuring a clean and casual design with varying tones of wood and shades reminiscent of sandy beaches, the home stands proudly on the corner of a block.
David Barr Architects Contact Information
Studio WA: 32 Cliff St, Fremantle, WA 6160
David Barr, 0438 895 119
david@davidbarrarchitects.com.au
https://davidbarrarchitects.com.au/
David Barr Architects Notable Awards
2020
Marine Residence: Shortlisted: Houses Awards – Alteration and Addition over 200m2
2019
Picard:
Shortlisted: Houses Awards – New Houses over 200sqm
Shortlisted: Houses Awards – Sustainability
Commendation: Houses Awards – Sustainability
2017
Gen Y Demonstration Housing Project:
National Commendation: National Architecture Awards – Sustainable Architecture
Winner: National Sustainability Awards –  Best of the Best
Winner: National Sustainability Awards – Multiple Dwelling
Winner: AIA Architecture Award: Residential Architecture – Multiple Housing
Winner: AIA Architecture Award: Sustainable Architecture 
Mcintosh Marzec Perth Architect
Karlene Marzec has been leading her firm for over 20 years now, a pillar of prestige residential architecture and design. Topping modern designs with classic features, Marzec's homes are simply yet magnificently gracious. Her fondness for pairing neutral palettes with brick and stone makes homes appear as if they were hewn with the prudence of an artisan. Intent on luxury, Marzec's attention to detail coupled with her passion for architecture leave her clients dazzled.
Her numerous projects show pragmatic consideration for her clients' needs, as well as her own flair for design. Evident in the numerous magnificent homes she has created, Marzec's taste for elegance cannot be understated. 
McIntosh Marzec Architect Contact Information
PO Box 6062, Swanbourne WA 6010
P: 0421 212 911
https://www.mcintoshmarzec.com/