We have come to a time where property or lot sizes available in the market are narrower than what we would usually consider, but as the need for a spacious and suitable design for narrow block homes arise, it has been a creative ground for builders to showcase designs which are distinct yet stylish and appropriate to any family needs.
Narrow block house is a sure trend! Not only that it enables you to consider buying a property in a suburb you've been eyeing for but also gives you freedom to still incorporate your dream house in such a narrow space.
Creating home that is both attractive and spacious in a narrow block is one of the smartest and highly creative trend in todays architectural design that will suit any lifestyle. It's so important for those looking to own their property in a specific city they wish to live in, to build their home enough to bring comfort and satisfaction with the lot they could acquire.
Finding the right company and team to help you take advantage of your narrow space is the key to start your crucial project of owning your very own narrow block house.
I know some of you has many questions in mind whether or not this one is for you. You might be wondering things like, does a narrow block home means compromising specific design and style that you want? Just to give you a quick idea, narrow block home offers more than meets the eye. A narrow lot doesn't limit what you can achieve in terms of your personal preferences. So sit back and relax as we look at different ideas to make the most of your lot, especially if you are someone considering a narrow block house of your own soon or maybe it is something you consider for the future.
Narrow lot home Ideas
Before I show you some floor plans for narrow homes, I will give some tips on making a skinny floor plan feel wider than it is.
A modern style that everyone is obsess with – high ceilings! and narrow block homes are no exception. This one is a no brainer as it gives an illusion of space. What an instant boost to your living, dining or any room at your home. Not only that it opens up the whole space it also provides a good ventilation overall. Although your living space might be a little horizontally inadequate opting for a high ceiling is your space hero as it widens upwards which will in turn give a sophisticated and a much more comfortable look.
You can always be even more creative by adding a nice chandelier or lightings of your choice, maybe a shelf where you can put any books and collection you might have. Well neither way I am only giving you a hint that high ceiling also allows you to decorate as much as you want since you have a wider walls and heightened space but a minimalist look is a good preference too. You can always ask your builder how high you can go but mostly depends on how far you are comfortable with so why not aim high!
The double height effect is a sure fashionable way to achieve an attractive narrow home. How relaxing it would be to sit by your living room which maybe a little narrow than what most are accustomed to but that double ceiling effect would leave you feeling satisfied because your space is just perfectly all you need.
As we've said earlier, there has been many creative architecturally designed narrow homes that will not compromise luxury and comfort to fit your narrow lot. One way that it is made possible is by building elevations. We highly recommend that you build two storey, you will be surprised with how you can turn your narrow space into your dream home.
It is a usual request for owners to add another storey, even up to 3, as it add a more unique perspective and useful area for families. There are many clever ways builders work around your lot, you will never have to worry how you would incorporate certain themes you want to add into your home. So if you think that you will have to compromise style and luxury of your home, you might have to ponder well.
A crucial structure for a modern narrow home, open plan living make the rooms in your space well incorporated from one another and make it work uniquely together. Opt out from walls or dividers and instead unify the whole space. The concept brings out a highly sophisticated look and allows ample amount of natural light in. Using glass doors is a good way to utilize the design, it enlarges the whole space even more and matches appealingly.
Open plan living turns your narrow home into a large versatile and refreshing hub where you, your family and guest would surely enjoy. Although it may seem a little complicated at first thought with careful planning it is both achievable and rewarding. The clever idea of making your living, dining even a corner patio work together as one is a look that will surely never go out of style.
Wherever you choose to live the right illumination in our chosen home is one the most important part of building. Of course we have seen massive windows allowing ample natural lighting in a lake house or country homes but is this achievable in a city narrow home. The answer is a big yes.
Natural lighting is one of the main keys in making your space a happy and healthy living area. You want that beams of natural light so scatter in every corner of your home, not only that it affects the overall mood inside your home it also makes it feel airy and open. Make sure to talk to your home builder and make way for those skylights with the help of glass door or windows and let the shine come in!
Landscaping a narrow block can help you create an added useful living space that you can enjoy with family and guests. It is a little different than landscaping a home with ample front and backyard since with a narrow lot your goal is to make every corner as useful as possible. You most probably would spend a lot of time out here so you want to make sure it's a crucial part of the whole building process, make it practical, comfortable and of course a relaxing space for all.
Landscaping needs to be suitable for the house. If you go for grass that needs a lot of sunlight and your house is blocking this. Think again. Try go for an alfresco that links to your home and makes it outdoor living with either astro turf or some low sunlight needed grass such as Zoysia or a low light Buffalo breed.
Narrow Block House Designs
As the market for narrow block homes continue to grow it also means a wider and more creative ideas when it comes to designs and style. Fresh and unique floorplans are always in the rise to stay up with the current demand, and of course to fit a specific block. Here are some examples that speaks for both beauty and practicality
9m Narrow lot floor plan
Below we have an example of one of the newest 9m Narrow lot floor design from Novushomes. They are committed home builders from Perth with over 25 years of experience in building –  definitely one of the leading company out there to help you build your very own luxury home. 
Price: $ 486,100 Novus Homes Flute 2
Here we can see that truly we never have to compromise luxury living in choosing to build in a narrow lot. With 4 bedrooms that your family can enjoy, a master suite at the upper floor this narrow home plan not only is a great example of beauty but also speaks for a modern and highly practical way to live in.
Skinny 10m floor plan
Coast Homes Brookdale. Price: $ 559,385
Another highly creative builder – Coast Homes, made this beautiful home you see below. They love to satisfy their customer with uniquely designed homes with close attention to designated budget for the project. They also have a huge respect for any personal preferences of home owners in terms of specific designs that they want to incorporate into their home, making each built original and personalize.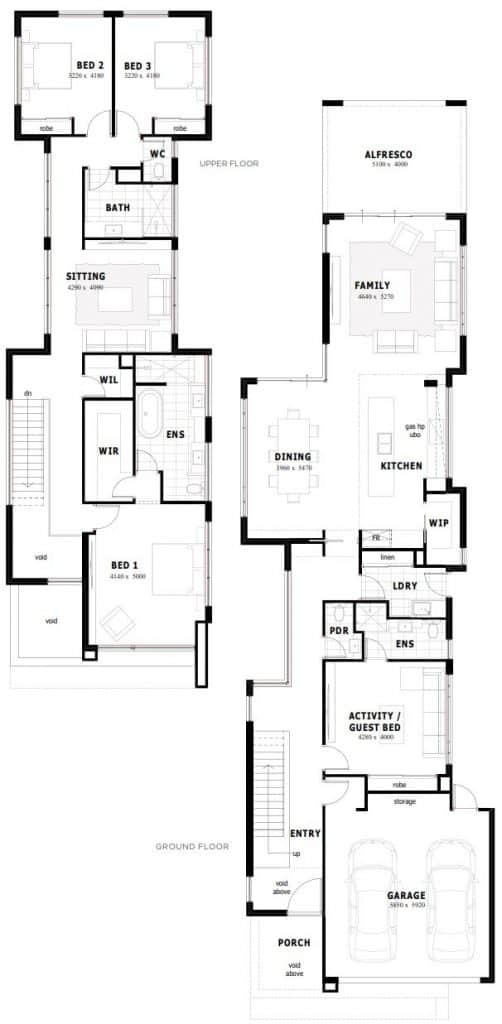 Sky is the limit when designing your home and narrow lot homes are no exception. There's really so much you can do with a 10m wide lot, if you are creative and willing to try something new you can always achieve a home that will wow the crowd.
Another 10m narrow block house plan
Another beautiful home from Novushomes, this 10m narrow block house has that minimal yet elegant look. A two storey home that could fit your family lifestyle with 4 bedrooms and 3 bathrooms, it's a place that everyone would love! For further specifications you can go and visit their site at 
Frontier by Novus Homes Price $ 405,700
A home that feels open and spacious this one is sure to inspire your next home. Massive windows installed gives a good amount of natural light in, which not only add to the clever design but also its usefulness for the family. A home that doesn't require too much maintenance in the long run which equates to more time to top priorities and family.   
Tips When Buying a Narrow Block
Narrow blocks are becoming the norm in todays view of owning a land in the inner city. It is mostly caused by the division of existing larger lots, or slices from different land developers. Many had resort to this trend but before you jump in here's some tips to consider before buying a narrow block.
First is quite obvious, do your research. In choosing your own block you would need to do some personal investigation. While doing this you have to closely look at your own lifestyle and whether it is engaging to the location and available amenities you often use. Location is crucial. Having to say that, look at the surrounding area, is it a place where you and your family can enjoy both privacy and community. Of course we can't always choose the perfect neighborhood but close investigation to a specific block we are eyeing for would save us from many regrets afterwards.
Along with this we also want you to consider visiting certain homes who has the same size block as the one you have or your considering. This case you would have an idea to what design and layout would suit your own build.
Know the narrow block home you prefer. Find a company to work with and have a keen discussion on the specific things you would love for your home as well as the structure of your block and orientation.
Also pay attention to things such as budget and livability. As you picture out your dream home you would be able to analyze how much space you would need to satisfy both wants and needs.
You may also try to look for people who had done a narrow block home build and perhaps learn from their mistakes. Know the council regulations and restrictions  to avoid going back and forth in the plans you have in mind.
It all boils up to well understanding before stepping in to your convicted decisions, find the right people to help you with by deep research and look for positive feedback from others who had gone through the process. Also be highly committed as it would allow you to keep going and make your dream to reality.
Council Requirements for Narrow Block Homes
The good thing about finding the right company to work with is that they are the ones who is accurate and familiar with the certain regulations regarding your local council codes. You can also always do your own research and be knowledgeable with this aspect. Here's some things to give you an idea.
Building code are basically the things you need to know before you start making plans for your build as it determine what are allowed and not to do. This rules are the first foundations you want to pay close attention with so that you can work with your home plans comfortably and avoid extended period of building.
First thing is to know your boundary. This determine how far you should build without affecting the surrounding block or perhaps the road near you. Having this to say there's also certain regulation on how much part of the land you can use to build your home as well as the outdoor areas you may want to add in.
Now the next thing you need to know is the height of your home. While you may wish to build a number of storeys you first need to check whether you would be allowed to do so. Sometimes you can go up to two storeys but would restrict you to build another.
There's also requirements about how your build would affect that of the existing homes around you. You need to make sure that your layout would not spoil your neighbors privacy, as well as it would not overshadow the natural light and clear view of other property beside you.
 There's also specific guidelines about your parking area you want to understand. Again, make sure to be well knowledgeable of regulations within your chosen city as it is not always exactly the same with one place to another.
Custom Narrow lot homes Perth
Here at BuildSearch, we have custom designed floorplans that not only speaks for practicality and outstanding design but also we want you satisfied with the money you invest in. Our floorplans are made to ensure that homes are meticulously developed to suit your chosen block, and we avoid compromising design but instead we love to maximize every corner and be of good service to your family needs and lifestyle.
Unique and  modern, we have a wide range to choose from that will inspire you. All of our floorplans are carefully designed to make full use of your block both the inside and outside living areas.
In addition to that we prioritize your wellbeing by making your space properly ventilated and feel open as we take advantage of natural light. We highly believe that narrow block house is not just a trend but a lifestyle that can help you on your further aspirations.
In todays fast paced world where things do change in an instant it is truly important to have a retreat that's comfortable and useful. We all want to own something that we would not later regret, something that would ease the concerns we daily face, an experience that would be beneficial as we move forward.
Owning a narrow home is an experience, the whole project of making your dream home fit into a narrow block is both challenging and rewarding. At the end of the day, you want a home that gives you more time to spend with your family and friends instead of time consumed in its maintenance.
Narrow block home can work for anyone whether you are someone looking for something minimal yet reasonable, professionals who's aiming for a space where you could refresh and rejuvenate or perhaps a busy family who wants a home that will cater to certain needs, in whatever stage of life you are we want to help you in your visions of owning your narrow block home.
If there's any specific design that you have in mind or any inspiration you want to incorporate to your home we can discuss every detail and we can always find ways on how different ideas or preferences can work together.
We're experienced home builders and our years of expertise has made it possible for us to satisfy our customers with unique narrow home floorplans. Perfect for today's busy lifestyle! Contact us now and together let us achieve a wonderful, efficient and functional dream narrow block house of your own.