Building a home is an extensive process, the length of which can be affected by a number of variables. The short answer is that the standard time to build a house is 12 to 16 months for a two-storey home designed by an architect or builder.
However, depending on numerous factors. The time to build a new house can range from 6 to 16 months.
A pre-designed home can be built in around 6 months, while homes that are custom-designed can be finished in around 10-12 months. Construction in urban areas tends to be faster than in rural areas. Naturally, single-storey homes take the least amount of time, and can be built in as fast as 4-6 months. Multi-storey homes take longer on average at around 8-12 months, while elaborate designs could take even longer. 
It's important to understand the factors that can affect the time it takes for your home to be completed.
Factors That Affect Time to Build A House In Australia
Condition of Land
When you purchase a block of land, it won't necessarily be immediately ready for construction to begin. It needs to be stabilized and cleared before anything, and the soil has to be tested for strength. The land also needs to be assessed for sloping or tilting. If there are any issues with these things, they have to be addressed so that your land is safe to be built on.
Home Design
As mentioned earlier, pre-designed homes from your builder are often the fastest to be built. The fact that your workers have built the design in the past saves a lot of time. Custom homes take longer to build, and that time increases as the design becomes more intricate or unusual. In the same way, a single-storey home will be much faster to build than a multi-storey home.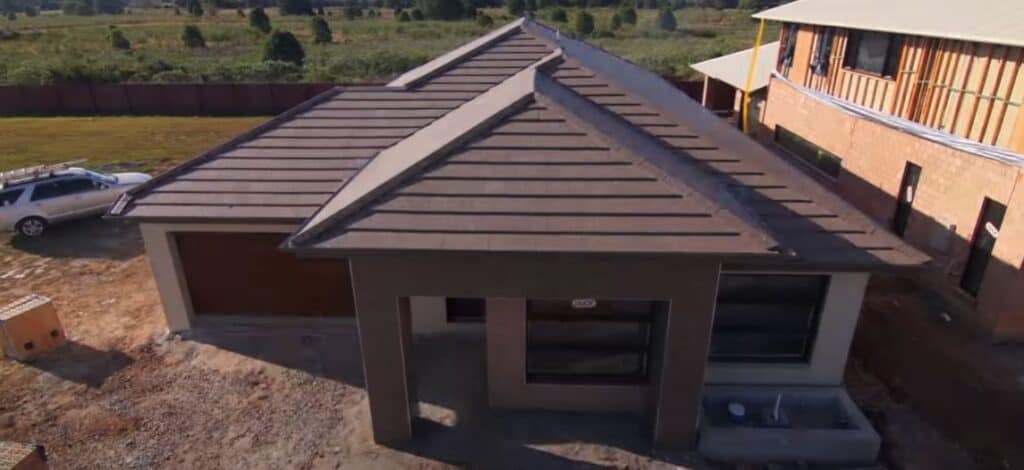 Adjustments
The most ideal situation would be to begin construction with the final plans for every part of the home. Especially in custom designed homes where adjustments can be made with more freedom, time frames for certain parts of the building process can be remarkably affected. The time it takes to plan new designs, order new products, or redo something in order to accommodate adjustments could cause weeks worth of delays. 
Location
As mentioned earlier as well, urban construction tends to be faster than rural construction. This is due to very practical reasons, such as travel time for workers, shipping of materials, and the like. If you are building in a rural area, try to keep this in mind, be as sure of your choices as possible during the planning stage, and maybe choose supplies that are readily available. 
Builder
Of course, the builder that you choose for the job has a profound effect on the efficiency of the work. The right builder will make the process as smooth as it can be. Great builders give detailed steps and schedules, and work in a very organized manner even (and especially) in the planning stage. These excellent builders are often very communicative and are happy to answer any questions you might have. They provide regular progress reports and keep you in the know about what's going on with the project. 
It's always best to do your due diligence to check up on your choices for builders — you should choose a builder that is reputable for their high quality work and good client relations. 
Related to this is the availability of the workers that are under your builder's employment, as well as the availability of materials and products that will be used to build your home. Depending on how busy your builder is and how accessible supplies are at the time of your project, your timeline may have to be adjusted. Discussing these things thoroughly with your builder will help you get a more accurate picture of how long the job will take.
Paperwork
Before you can even start building, you have to fill out the necessary forms and secure the appropriate permits. This can be a time-consuming aspect of construction, so make sure to do it diligently. 
Weather
The weather is one of the external factors that we really can't control, no matter how much we would like to. Severe inclement weather can push your completion date back depending on how bad it gets and how long it lasts.
The construction of a home is a multi-stage process, and it is worth noting that the final stages take the longest. As with any process, it is important to understand that in the construction of a home, things do not always proceed smoothly. 
There are a number of issues that could come up, and delays are actually fairly common. It is always good practice to have detailed discussions with your builder prior to beginning the construction process, and to ask questions whenever you feel like it. It would be best to do research as well so that you can understand the exact process of building a home, and be more well-informed about what will happen during the actual construction. Doing your best to be part of the process and stay informed is also an important responsibility as a future homeowner. 
Though it can be a long process, building a home is surely an exciting and fulfilling journey, and is well-worth the time to have a home that you love and call your own.