What is a Floor Plan?
A floor plan is a detailed and drawn layout of one level of a structure. It shows scaled dimensions, proportions, and relative placements of rooms, furniture, and fixtures from a top-down perspective. 
Floor plans are generally used by architects and engineers to give a proper sense of traffic flow by showing details like which way doors open. The process of drawing a floor plan is called drafting. They also serve as guides to review space allowances prior to making permanent changes to the level.
Floor Plan Software
In the past, floor plans were very labour-intensive, but in recent years, floor plan softwares have emerged, making it easier to create floor plans and reducing the drafting cost. However, many floor plan software cost hundreds or even thousands of dollars to use. Luckily, there are a few great floor plan software that are available for use, free or of low cost for many essential functions.
SketchUp
SketchUp is a 3D design tool with drafting and modeling functions. It is meant for the use of both architects and designers, as well as engineers and builders. Its simple interface is designed to give lots of freedom. 
SketchUp Free is a web application, used on any browser. It offers 10 GB of Trimble Connect storage on the cloud, for easy sharing and collaboration. It offers users access to its website, where 3D models for many elements are available for download. This includes models for structures, furniture, fixtures, etc. What is notably good about SketchUp are its camera controls, giving you enough freedom to virtually walk around your model. 
Sketchup offers the following plans:
SketchUp Free

is their most basic plan, being a 100% free web application that allows access to their model warehouse. It offers 10GB of online storage, and allows the import of SKP, JPG, PNG file types as well as the export of SKP, PNG, and STL file types.
SketchUp Shop

costs

USD119 per year

, being promoted as the full-feature web application, most notably with the option for custom styles and materials. 
SketchUp Pro

costs

USD299 per year

, and offers the options to use both the desktop application and the web application. Meant for professional use, this program offers a multitude of additional features and functions to produce higher tier renders.
All versions of SketchUp are very convenient in that they allow viewing on iOS and Android devices, for easy access on the SketchUp Viewer app. It is also the top pick for free floorplan software, as it is one of the only applications that allow indefinite use free of charge.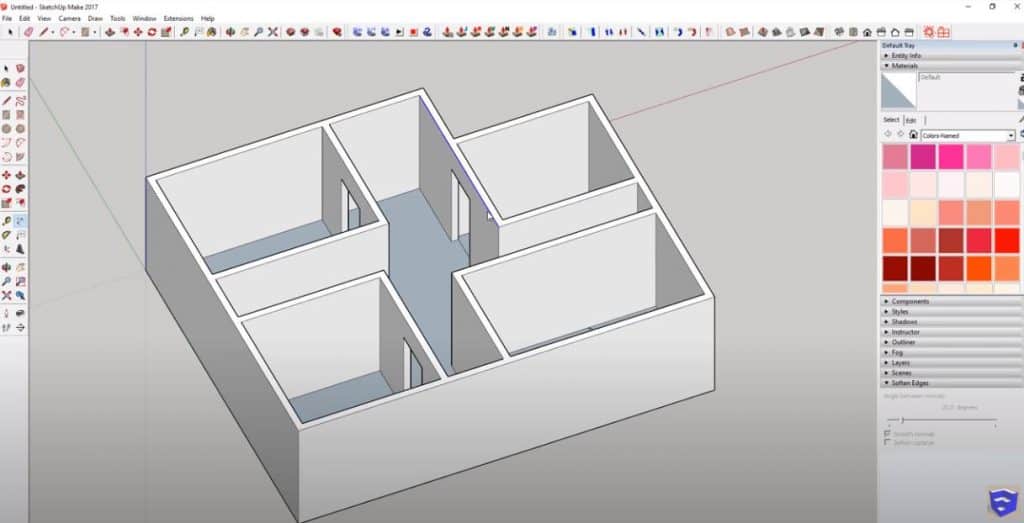 Floorplanner
This application is cloud-based, meaning you can use it on any web browser simply by creating a free account, although they also offer an app for your iPad or iPhone. It is meant to be used by real estate agents and interior designers to create 2D and 3D floor plans that could help with presentations for potential clients, whether for purchase or remodel. 
Floorplanner is remarkably easy to use and offers numerous design options for walls, furniture, and other objects that fill up interiors. It has an auto-furnish function, which is one of its key features. Its editor has been described as intelligent and user-friendly, making it convenient even for those without much experience to use. Despite this, paid subscriptions let users create high quality renders that are 
Floorplanner offers three (3) plans:
The

Basic

plan is

free

, and gives you 1 free project, with subsequent projects priced at a reasonable USD4.99 each. 

The

Plus

plan costs

USD14.95 per year

and includes 5 free projects, with subsequent projects at an even cheaper USD2.99 each. It also gives many other options, such as higher resolution image downloads, embedded plans, 20 3D renders per year, and PDFs to scale. 

The

Pro

plan costs

USD29 per year

and includes everything that is included in the Plus plan, but with multiple staff login options and branding. 
Floorplanner also allows you to share designs via download, email, or even on social media websites like Facebook and Twitter. 
SmartDraw
SmartDraw is notable first and foremost for its extreme versatility. Not only is it a platform for floor plan creation, but it also features creators for graphs, charts, and other schematics. It is meant for the use of pretty much anyone, catering to architects and designers to engineers and builders, to real estate agents and people that work in marketing or management. It is straightforward with its ease of use, sporting a simple user experience and providing an ample selection of templates and elements, particularly architectural symbols. 
It features an automated drawing system that adjusts based on the changes made. The free version of SmartDraw, like others, is an online application used on a browser, accessible to anyone as long as they have a stable internet connection. 
SmartDraw offers the following plans:
The

SmartDraw Online Free Trial

lasts for 7 days.

A single-user

SmartDraw Online

costs

USD9.95 per month, billed annually.

For five or more users,

SmartDraw Online

costs

USD5.95 per month, billed annually.
This is the least recommended of the 3.
All of these plans have essentially the same features. SmartDraw is advantageous in that it can connect easily to multiple apps, including Microsoft Office, Confluence, Jira, Trello, and GSuite. There are also options for export to multiple graphic formats. 
Though most floorplan softwares require payment, many of them are reasonable and well worth it. However, there are some that allow free usage, which can be great opportunities for lay people that would like to create a floor plan only once, or that want to explore software while cosidering a purchase. 
Technology has made tasks such as floorplan creation not only easier, but accessible to people that do not have a background in architecture, engineering, or anything of the sort.