The financial needs of building a granny flat depend largely on what you intend to use it for, how big you'd like it to be, and what kind of quality you'll be going for. Naturally, you'll have to consider how much you're willing to spend as well.
A Granny Flat in Australia will cost around $100,000 for a 50 square meter unit. This will include all all council approvals and materials. 
What is a Granny Flat?
A granny flat is a smaller residence adjacent to a main house and they cost is less than a house. Although they are usually on the same property as the main house, they are intended to be freestanding. They can be attached to the house, semi-attached, or not attached at all, but they typically have their own entry point. 
More often than not, granny flats have their own living room, dining area, bedroom, kitchen, and bathroom. They are designed to be mostly independent. Different regions may have different requirements and laws regarding building granny flats, so it would be a good idea to contact your local council to get the details before setting out to do anything.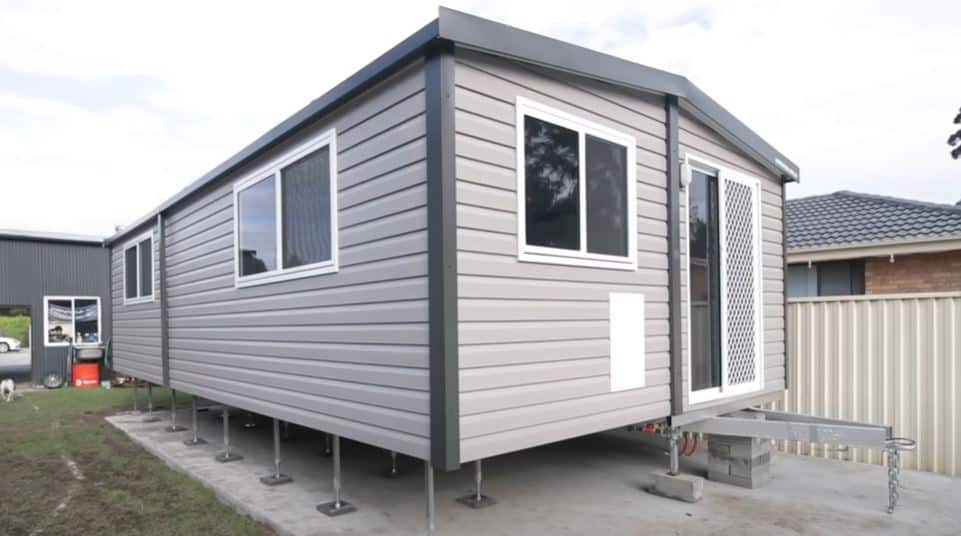 The "granny" flat takes its name from one of the most common ways it is used: to house an elder relative, such as a parent. This allows them to have the same privacy they would have if they were living on their own, while allowing their children (loved ones that could help them out in case they needed it) to be close and accessible. 
In the same way, granny flats are also sometimes used to house grown up kids that aren't ready to move out, or even as housing for visitors. Some people use granny flats for their businesses or as offices. Others have them rented out for a little extra income. They could also used as home extensions for various purposes. Granny flats could be very versatile additions to your current property.
Can I Build a Granny Flat?
As with any construction job, it's important to find out about the regulations and required approvals involved with building a granny flat. Depending on where you live, the rules could vary, so it would be prudent to get in touch with your local council and find out from them. 
Often, there is a rule for maximum granny flat size thay will be specific to your area. There may also be rules requiring a minimum total size of your lot. Usually there are also distance requirements for the space between your granny flat and the boundary of your property. 
How Much Does Building a Granny Flat Cost?
When you decide to build, you'll have to choose between a kit (pre-designed) or custom granny flat. Despite how it may sound at first, kits are usually not inferior in any way to custom-built granny flats. Usually, the only thing you'll lose when choosing a kit granny flat is the option to design it to your specifications, but in terms of quality, most reputable builders make amazing kit granny flats.
Kit Granny Flats
Australian one-bedroom kit granny flats start at around 70k at the very minimum. Based on area, here are some estimates for kit granny flat prices:
$81k = 38 sq. meters

$95k = 50 sq. meters

$120k = 71 sq. meters
You can expect to pay these prices for kits that include plumbing, electricity, and slab work. Most kit packages should include these things, although it is not uncommon that builders would charge extra for a certain added distance of plumbing pipes and electrical wiring. 
Kit builders usually include a full kitchen (including benchtops), 10 power points and one external power point, all bathroom and shower fittings, lighting fixtures, laundry tub and splashback, flooring and/or carpeting, and standard cladding. 
As we mentioned earlier, you may expect extra charge for a larger floor area and extra distance for plumbing and electricity, but you can also expect your granny flat to cost significantly more if you opt for another type of cladding, if you want to increase the height of the walls, or if you want to use different materials for various parts of the flat. 
Custom Granny Flats
Building a custom granny flat usually starts at around 120k, and can go as high as 200k, depending on the same factors we mentioned earlier. Although it tends to be more costly, there are particular advantages to designing your own granny flat. The most obvious pro would be that it would be designed to your own specifications, and so it would be very much suited for its intended use. 
Structurally and aesthetically, you would be able to use materials, designs, and finishes that you like. Choosing quality materials over cheaper ones could save you money down the line in terms of renovation or repair. This is especially recommended when you want to have your granny flat rented out, to minimize the possibility of your tenant breaking anything.
Is building a granny flat expensive?
Whether you decide to build a kit granny flat or a custom one, it would be best to compare the packages offered by different builders. Carefully weighing the costs and benefits of each package against your needs is important, since building a granny flat could end up being a big investment. 
The inclusions of each plan are different, but as long as you make sure that they include the essentials, then you should choose a plan that you can be happy with, for a price that you can afford. 
Granny flats are extremely versatile and often worth the cost. They could be great alternatives to home extensions, they could house your parents, children, or guests, and they can even be rented out. They increase the value of your property, and give you a new space that can be used in any way you would like.