As you walk around the neighborhood, there are different houses with various layouts. These properties come in different forms depending on the homeowner's preferences or needs. Some prefer to have a property with a wide frontage and some of them include an L-shaped ingress into a subdivided block. This is called a battleaxe block and it's becoming increasingly popular.
You can observe this kind of property layout on several new homes in older areas where subdivision has been performed. However, there might be certain issues in selling battleaxe blocks, making it difficult to attract potential buyers. This article will provide you the information that you need to know about battle axe block.
What is a Battleaxe Block?
A battleaxe block is a term used in real estate that pertains to a block of land behind the another that have access to the street via a long driveway. They are called by their distinct L-shapes, which are said to resemble a battleaxe or a hatchet.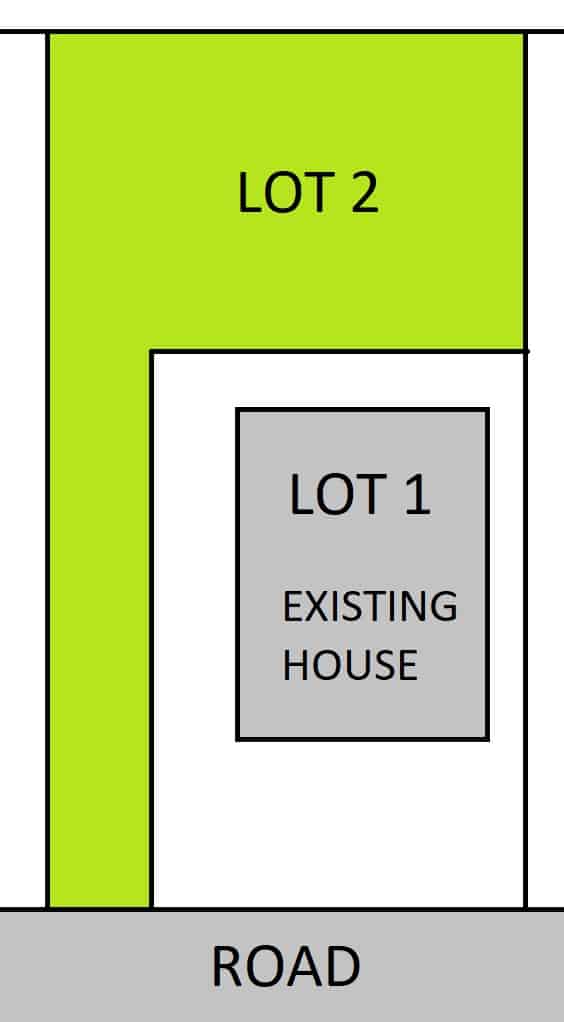 Battle axes are often the product of property developers subdividing a wide block of land into a battle-axe unit. This kind of block is simply a larger block that is subdivided, leaving one block on the front and one block on the back.
The grip or handle of the battle axe represents the entrance for the driveway going to the head of the battle axe, the main block of the property.
Purchasing properties on a battleaxe block needs special consideration and understanding because of its somewhat complex layout and possibly legal issues by council and the R-codes when building. Many people hate them, some like them, but whatever your preference, at some point in your life as a homeowner, you will encounter a property like this.
Costs of Creating a Battleaxe Block
There are a lot of upfront expenses that you need to shoulder if you want to create a battle axe block from scratch. A Battle Axe block will cost you around 25,000 dollars. You need to provide for power, phone, gas, sewer, water and more. However, one thing that can easily add up is retaining walls so be aware of this.
I will provide an example of a homebuyer seeking to own a battle-axe block property by subdividing and existing property. Some of the major expenses are as follows:
| Service Fee | Cost |
| --- | --- |
| WAPC fee | $4200 |
| Local Council | $150 |
| Water Corp | $6500 |
| Western Power | $5000 |
| Landgate | $430 |
| Surveyor | $4000 |
| Plumber | $1800 |
| Electrician | $2000 |
| Settlement Agent | $800 |
| Total | $24880 |
The cost and fees associated with subdividing a battle-axe block
Expenses when creating battleaxe blocks vary, depending on the council, area, cost of living, current trends, if you are doing demolition of the existing house and more. Some councils in Australia require initial deposits to secure the initial building process. Your overall budget may be more or less than usual, depending on the type of title to build, type of strata, crossover, verge, footpaths, and more.
However, if you are looking to create a battleaxe block on a restricted site, things may get a little bit different. Where the building occupies most of the block, a restricted site is generally used. Typically speaking, this means that materials are little stored, and special techniques may be needed to construct the building.
Generally speaking, if you're in a new area, you would be able to skip site costs. If you're trying to build anything like a battleaxe block in an established suburb, there's a fair chance that you get the extra charge and your house will cost more.
Can you Subdivide a Battleaxe Block?
Before we dive into subdividing a battleaxe block, we must know the fundamentals of subdividing properties in general. if not, best to call a building broker. In Australia, there are residential property planning codes and council subdivision requirements to consider. I am going to make Perth as an example. 
Land in Perth with a physical address with a residential design code or R-code in short. This decides, more specifically, what can be constructed on a block if it can be split into two or more lots.
To find your R-code you can use the mapping feature on most local councils' web pages. Understanding what the R-code zone is for your area determines if you block is eligible for subdivision.
The R-Codes essentially serve to monitor and regulate residential growth throughout Western Australia, but primarily to decide whether or not a property has the ability to be subdivided and what can be built on subdivided land.
The minimum width of a driveway in a battleaxe is 3m for strata subdivision and 4m for freehold.
Freehold and Strata Subdivision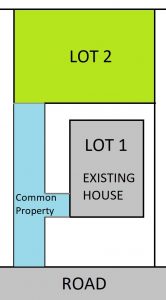 There are two ways you can subdivide a battle axe. One being a Strata subdivision and one being a freehold title. The difference is a strata uses the driveway as common common property where as a freehold the land is totally separate.
In real day to day life they are both quite similar. However, freehold titles are more sort after due to not having shared land but strata titles are easier to create because the rules and regulations allow a bit more freedom.
You may check your local council webpage or consult with a professional to know more about the legalities of purchasing or owning battleaxe block.
Who Owns The Driveway on a Battle Axe Block? 
The person who owns the battleaxe driveway depends on how the land was subdivided. If the land was a strata subdivision the driveway will most likely be common property. However, if it is freehold there is more of a chance that the driveway will not be common property.
Benefits of a Battleaxe Block
Due to the long driveway, owning properties on a battleaxe block is probably not too far in the street and you can look out over other buildings or yards more likely. In certain situations, however, this can establish a sense of privacy with the impression that the property is shut apart from the general public.
Added privacy
Long driveway
Safer for kids
Less robberies
The rear location of the house has other benefits as well. A battleaxe block will provide a good level of protection for a family with young children as it does not have direct open road access. This can also offer a long, enclosed driveway, which is perfect for cycling or skating.
However, a battleaxe block has its fair share of drawbacks aside from its distinct benefits. For example, it can be difficult to find the hidden entrance especially at night when visitors visit. However, the price is one incentive that cannot be overlooked. The house built on the back of a combat axis block is typically cheaper on average, which could be the key factor in deciding when you're purchasing a new property.
Wrapping it up
All in all, a battleaxe block is a cost-effective way to own a property with enhanced privacy and safety. Certain situations owning a battleaxe property may be costly such as building in restricted sites, but generally, they are cheap compared to buying a title from a vacant piece of land. It is a no-brainer to buy and live a secure home in a reasonable price?